Bill Pay
Pay bills on time, every time!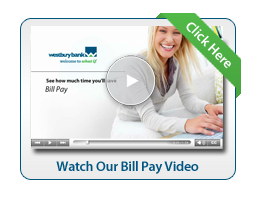 A secure way to pay your bills on time and save money: save on unnecessary late fees, checks, and stamps. Plus, you'll use less paper!
Pay bills at any time from your checking account to any company or individual who has a valid U.S. address.
Pay bills fast, within 1 to 2 days!
Pay a person with Popmoney

*

Save money; no stamps, no envelopes, no ordering checks!
Option to receive your bills electronically for those companies who offer them.
View payment history on your bills and find all your billing information in one location. Last paid, how much, to whom, address, account information, and you're also able to change or add another bill at any time.
Schedule payments, especially recurring payments (same dollar amount each month), so that you don't have to remember to process it. You might also want to do a one-time schedule to help pay bills when you are on vacation or will be out of town for some time without computer access. You'll still be able to track these payments since an email will go out to you letting you know when the payment was made.
The most secure way to pay your bills and prevent identity theft.
If you already have a westbury bank account, you can enroll in Online Banking to get started.
---
*Fees may apply